Lots of you are mac fans and so am I – I love Apple products. This past week, I dove in and got the new 27″ iMac fully loaded – I got the top of the line with the Intel i7 quad core processor and let me tell you I'm ecstatic about it! Photography and video with the Canon hybrids like the Canon EOS 5D Mark II require more and more processing power on a good computer. This new iMac really qualifies.
---
---
Screen
It is actually even kind of strange – the 27″ screen resolution is so high (2560×1440 which is 16:9 – the same ratio as most movies), the full 1080 HD from the Canon EOS 5D Mark II doesn't even fill up the screen at full size (on the 21.5″ model, the resolution is 1080 exactly). Did I mention that this screen is amazing? This thing is bright white when looking at a white Internet page… it is better than most HDTVs. Apple has used the latest side-lit LED technology and it just blows me away. The clarity of video is stunning. If you're working on video with the 5D2, I can't imagine a better monitor to edit with… and to boot, you'll get an entire Apple computer as a bonus. You could pay $1500 easy for just a high quality LED HDTV like this and you get a computer too! I don't know what Apple's doing to upsize the video when you go into full screen in QuickTime or the DVD player, but it is darn amazing too – maybe an experienced video expert would see some artifacting or something, but all I see is superb images.
Some people are upset that the screen is glossy instead of matte… and I should be too – I am a matte man. I prefer my photos printed on matte, I just bought a new flat screen HDTV and went with the Sony XBR9 and one of my reasons for picking it was that it has a matte screen, but with no other choice, I had to go ahead and get the iMac. And frankly, my room is good for the screen – there are no lights or windows directly behind me. But I also made sure my room was set up like that. So far, the screen is so bright that any reflections I do get don't bother me much.
Speed!
The i7 is one of the newest Intel quad-core processors – meaning there are 4 CPUs on the chip – and the i7 has the ability to 'hyperthread' – meaning it can go into overdrive when needed. From MacDailyNews "allows two threads to run simultaneously on each processor core, providing eight virtual cores for increased performance." Apple even shows the 8 cores in the Activity Monitor application in a tiny popup window so you can see how each of the processors is running. It is kinda fun to see – especially when you're doing really heavy stuff and all 8 little charts are popping up and down.
If you don't believe me, then read this article… "Why go Pro when iMac goes faster?" – they say, "As seen in our review, a Core i7-powered iMac recorded a higher Speedmark score than both of the Mac Pros we tested—a quad-core 2.66GHz model, and an eight-core 2.26GHz version." From the review: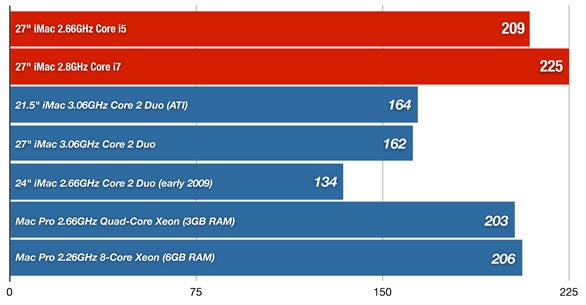 I think the key is to get as much memory as you can afford – at least 8Gb (I got 4Gb additional memory for less than $100 online somewhere – don't pay Apple $200 for the same 4Gb). As you can see from these two shots, the 8Gb gets used up (granted I have a lot of applications open)… but when these two snaps were taken, Aperture was rendering previews and playing 5 youtube videos simultaneously.
Those kind of stats make this a great Canon EOS 5D Mark II editing machine (which of course makes it good for the Canon EOS 7D and the Canon Rebel T1i/500D as well as the new Canon EOS-1D MKIV). The base hard drive is 1TB and so there's plenty of space to work with and with the speed of these processors, you should have no trouble with stuttering or playback. Heck, even editing will be easy as pie. I'm not a huge editor, I just play around with iMovie for my 5D2 video – and it is as smooth as I would expect it to be on this new i7.
Setting up the iMac
After a long conversation with myself (yep, I have to have someone to talk to LOL!), I decided to go ahead and use Apple's Migration Assistant to bring over my stuff from the old iMac. I know that there's probably lots of baggage with my old user ID, but with all of my settings etc, I just decided that I'd bring over the garbage along with all of my files. Besides, I don't like change LOL so I wanted to just get up and running.
Unfortunately, I didn't remember that Migration Assistant likes to use a firewire link between the two computers – and I have gobs of firewire cables around the house, but none of them are firewire 800. So instead, I tried to use Ethernet – and with the nearly 500gig of old files, it took over 12 hours. If I were you, I'd track down a firewire 800 cable if you can…. tho it wouldn't work in my old iMac, I'd need an 800 to 400 since the old iMac doesn't have an 800 connector.
Things I like about this new iMac
man, it is quiet – hardly a whisper out of the fans or drive
the screen is very bright and white
you won't believe how fast this is!
the new magic mouse (wireless) is great – using finger swipes instead of a wheel is genius
things I don't like or have to get used to
27″ is darn wide – hard to get your eyes to the edges at times
I always like a keyboard with a numeric keypad – it doesn't cost extra, but it isn't the standard keyboard any more
Conclusion:
Overall, I'm just ecstatic about this new iMac – the screen is blow your socks off amazing, the processor is greased lightening fast and so much better than the 2 year old iMac I had! If you're looking for a new computer or just tired of the slow one you've got on your desk, then get this new 27″ iMac with the i7 processor. Will cost you a few more pennies, but the time savings and enjoyment make it worth it.
As of this writing, I think you can only order the iMac i7 and i5 from Apple, but you can get in line to buy the 27″ iMac at Amazon.
You can also get the smaller 21″ iMac, but as you can see by the chart above, that the performance is good but it isn't close to the speed of the i5 and i7 iMacs.
(Photo credit: snap from apple's iMac site)
---
---